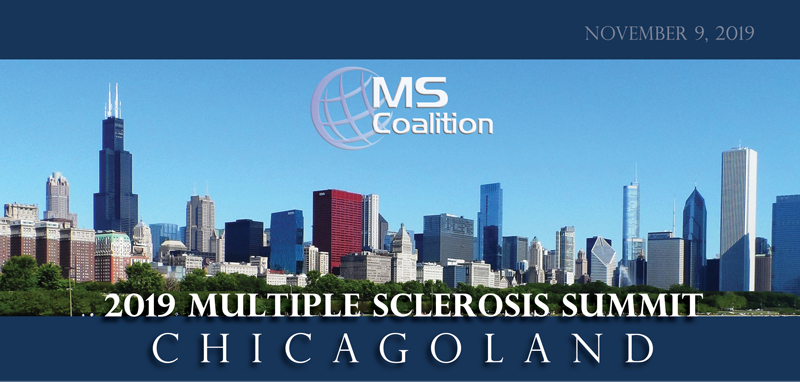 For more information, call 800-532-7667 x 165
This day-long event includes an interactive expo and informative workshops for people with MS and their supportive partners.

Access to ALL parts of the MS Summit, including breakfast, lunch, and parking, are free-of-charge.
When: November 9, 2019
Where: Westin Lombard, Lombard, IL
Address: 70 Yorktown Center, Lombard, IL 60148
10:00 am – 11:30 am
Exhibit Hall & Complimentary Continental Breakfast
Giveaways available at expo!
11:30 am – 12:45 pm
Lunch Presentation
MS Research: You Shape the Future
Deborah Backus, PT, PhD, FACRM
1:00 pm – 2:30 pm
Educational Sessions
Mind Over MS: Mood, Cognition, and How to Cope
Laura Hancock, PhD and Meghan Beier, PhD
What to Expect as a Woman with MS
Riley Bove, MD and Latoya Benita Stephens, MD
Wellness and Self-Care for People with MS
Lisa Aquillano, PharmD and Amy Perrin Ross, APN, MSN, CNRN, MSCN
Wellness and Self-Care for Support Partners
Rosalind Kalb, PhD
2:30 pm – 3:00 pm
Break in Expo Room
3:00 pm – 4:30 pm
Repeat of Educational Sessions
4:30 pm – 5:00 pm
Coffee / Adjournment / Expo
HOTEL INFORMATION
We have secured a limited number of discount rooms for the MS Summit. Please click on the link below to book your hotel.

Last day to book at a special group rate: Thursday, October 17, 2019
Hotel name and rate: The Westin Chicago Lombard for 119 USD per night
Link to book your hotel: https://www.marriott.com/event-reservations/reservation-link.mi?id=1561731325495&key=GRP&app=resvlink
For more information, call 800-532-7667 x 165
THIS FREE PROGRAM IS OFFERED BY THE MEMBER ORGANIZATIONS
OF THE MULTIPLE SCLEROSIS COALITION.